You could easily drain your bank account buying home decor items from high-end retailers, but why spend all that money when there are more affordable places to shop? Walmart has an incredibly large selection of home decor essentials—including everything from furniture to throw pillows—and most of it is not only top quality, but budget-friendly, too.
Whether you're decorating your first apartment or redesigning your existing space, these 25 home decor pieces from Walmart should definitely be on your radar—especially because they're all under $50. Plus, with the recently unveiled Walmart+, you may be able to get free shipping on your delivery, if you live within a participating zipcode.
From boho to modern and everything in between, you're sure to find something that speaks to you.
1. A cool modern planter with a geometric design
If you want to give one of your favorite plants a new look, this inexpensive pot from Walmart's MoDRN line is the way to go. It's just over 12 inches tall and around 16 inches in diameter, making it spacious enough for large houseplants, and the planter's multi-faceted ceramic exterior is available in several fun colors. It can be used inside or outside, and the cool modern vibes are sure to earn you compliments.
Get the MoDRN Scandinavian Multi-Faceted Earthenware Pot from Walmart for $39.99
2. This trio of inexpensive rustic lanterns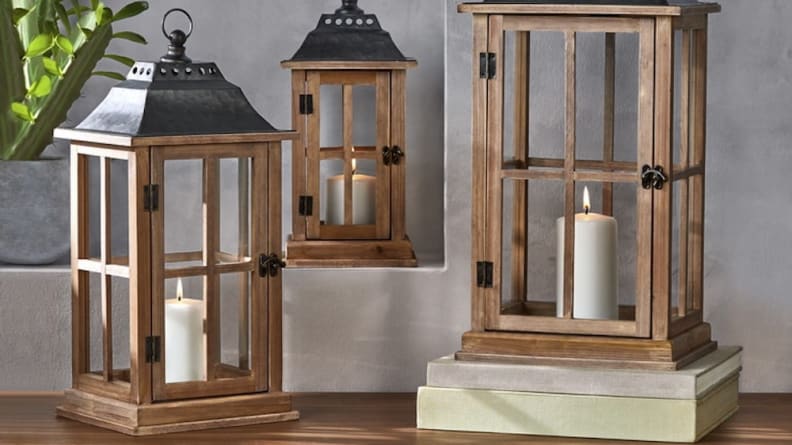 These rustic wooden lanterns are sold separately, but they're so low in price that you can actually get all three for under $50. They come in small, medium, and large sizes, and each lantern features dark galvanized iron accents for a distressed, rustic vibe. Whether you put them on your dining table or patio, they'll lend a homey touch to any space.
Get the Better Homes and Gardens Rustic Wood Candle Holder Lantern, Medium from Walmart for $14.88
3. Velvet throw pillows from Drew Barrymore's home collection
Did you know that Drew Barrymore has her own home decor line at Walmart? The Flower Home collection is everything you'd expect from the bubbly actress, and you'll especially love her velvet throw pillows. They're available in five bold jewel-toned colors and feature brightly colored tassels on all four corners. Great for your couch or bed!
Get the Drew Barrymore Flower Home Velvet Decorative Throw Pillow from Walmart for $34
4. A farmhouse-style wooden tray
If your coffee table is looking a bit bare, this wooden tray is the perfect way to pull your living space together. The farmhouse-style gray-washed tray is 16 inches long and 12 inches wide, and it has cutout handles that make it functional as well as stylish. It would be a perfect decorative touch on any table in your home, especially when coupled with a few books, a candle, or some fresh-cut flowers.
Get the Better Homes & Gardens Tabletop Wooden Tray from Walmart for $14.22
5. An affordable geometric accent for your coffee table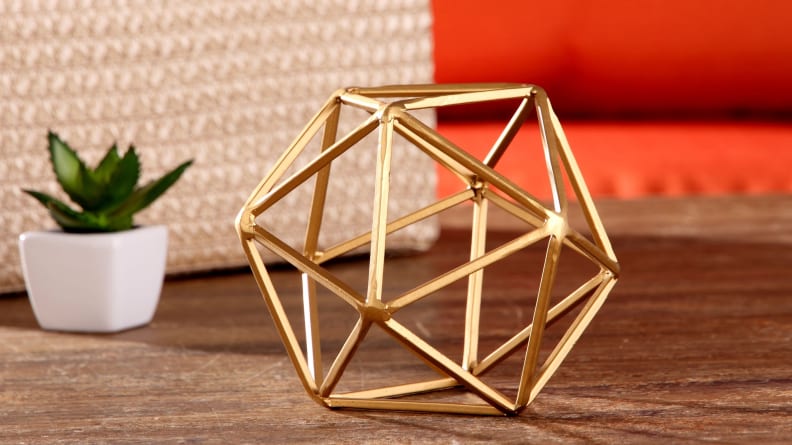 This little sculptural piece is ideal for a bookcase, coffee table, or home office. The geometric metal sculpture has an eye-catching gold finish, and it's 6 inches tall and 5 inches wide. If you want it to serve a more functional role, you could use it as a paperweight, but it would also look nice standing on its own as a decorative accent.
Get the Better Homes & Gardens Iron Geometric Tabletop Sculpture from Walmart for $7.97
6. A super-cozy sherpa throw blanket
If your personal style can best be described as "hygge," you'll love this plush sherpa throw blanket, which is ideal for curling up on the couch or watching a movie in bed. It comes in several pretty colors, and the soft polyester material is easy to clean in the washing machine. Plus, reviewers rave about how incredibly soft it is!
Get the Mainstays Extra Plush Lightweight Sherpa Throw Blanket from Walmart for $8.88
7. Sheer curtains that come in several sizes
Curtains can be extremely expensive, especially when you buy them from specialty stores, but why drain your wallet when you can get these pretty sheer curtains for such a low price? The panels come in several lengths, ranging from 54 to 108 inches, and you can choose from a huge selection of colors and patterns, too. The curtains have a pocket that fits rods up to 1.25 inches in diameter, and they're machine washable for easy maintenance.
Get the Mainstays Marjorie Sheer Voile Curtain Panel from Walmart for $4.97
8. A moon-shaped tapestry for your bedroom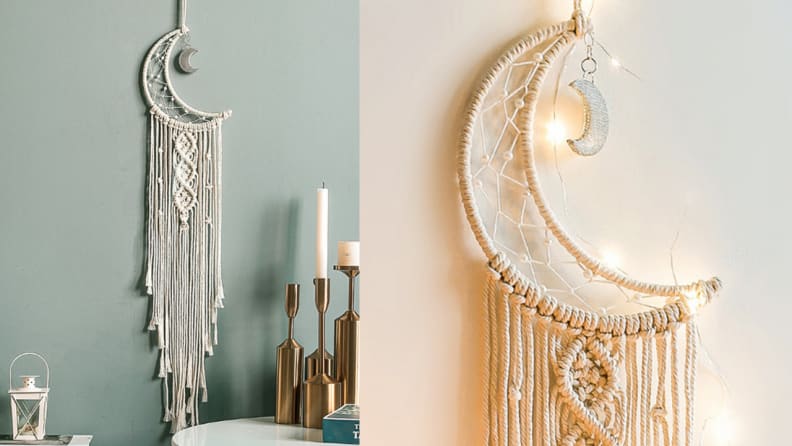 This macrame tapestry would make for a pretty accent in a boho bedroom or living space. The rope wall hanging features a crescent moon with long, flowing tassels hanging down underneath, and the whole thing is around 38 inches long. It's simple and stylish, and you could always dress it up with some fairy lights for a little added flair.
Get the Macrame Wall Hanging Braided Tapestry from Walmart for $13.29
9. A pack of two corduroy throw pillows in a rainbow of colors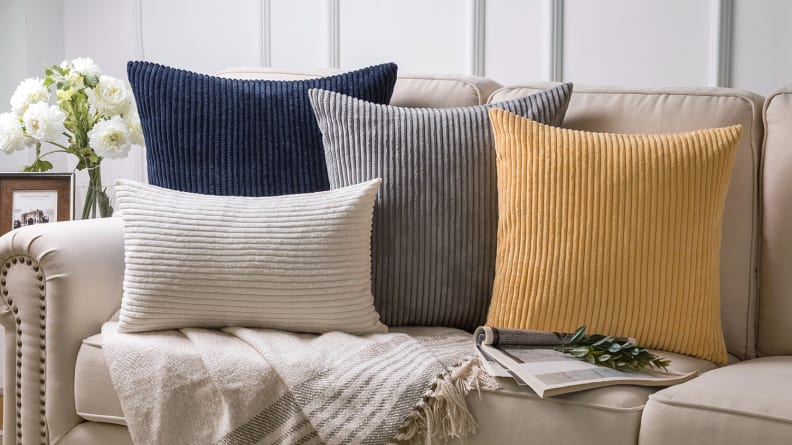 How can you resist this deal? These pretty corduroy-style throw pillows come in more than a dozen colors to match any decor, and the best part is that you get two of them for such a low price. The pillows come in several sizes, and you get two inserts and two covers with your purchase. They even feature a hidden zipper closure that makes them a breeze to wash.
Get the Phantoscope Soft Corduroy Striped Velvet Throw Pillow, 2 Pack from Walmart for $22.99
10. A soothing salt lamp to ward off bad vibes
We could all use a little bit of stress-relief these days, and there's no better way to make your home feel zen than with a Himalayan Salt Lamp. True to their name, these lamps are made from large chunks of natural salt, and they give off a soothing orange glow. Some people believe the lamps can help to purify the air in your home, and while there's no scientific proof of that, they're still a fun and relaxing piece of decor for your bedroom or office.
Get the Natural Hand Carved Himalayan Orange Salt Lamp from Walmart for $12.96
11. A cute cactus-themed throw pillow
Even if you have a brown thumb, you can add some greenery into your home with this cactus throw pillow. The design features an array of colorful plants, complete with pink flowers and patterned planters. The pillow is 14 inches by 20 inches, and it has a plush polyester fill that will keep you comfy as you lounge.
Get the Better Homes & Gardens Cactus Splash Decorative Pillow from Walmart for $12.87
12. A light-up marquee box to display messages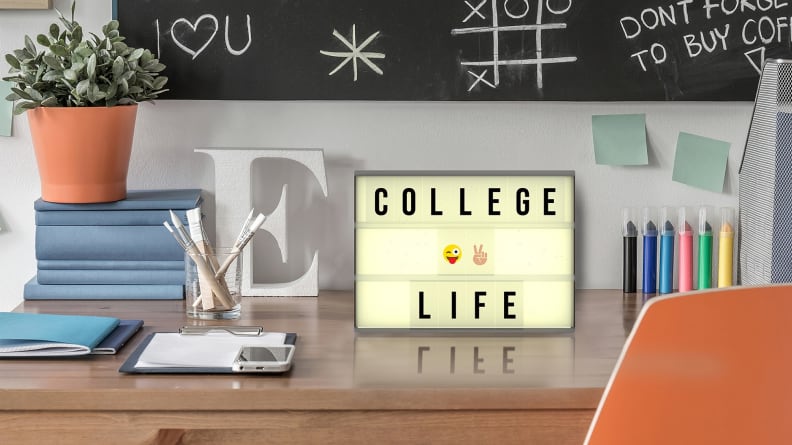 Letter boards are so last season! Marquee boards are the latest way to display fun, silly, and inspirational messages throughout your home. This 12-by-9-inch light-up box has color-changing LEDs inside, and it comes with 144 tiles featuring a full alphabet, symbols, numbers, and even popular emojis! Plus, it can run on either six AA batteries or its USB cable, allowing you to place it anywhere in your home.
Get the AuraLED Multi-Color Light Up Marquee Box from Walmart for $14.88
13. This simple white hanging planter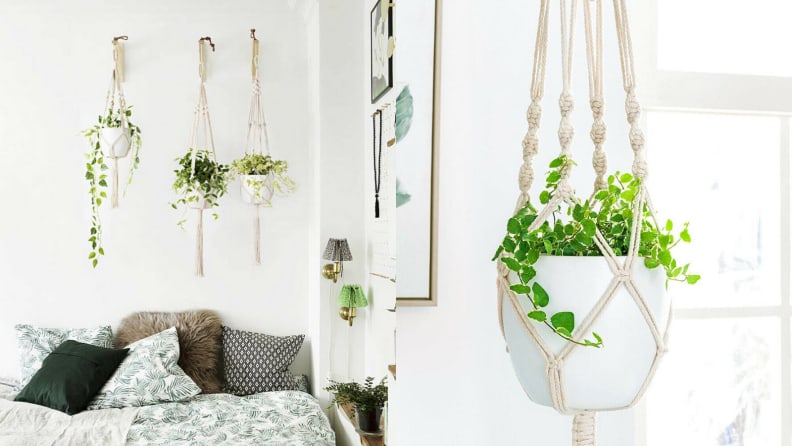 If you've been collecting plants and have run out of shelf space for them, the next logical step is to start hanging them from the ceiling. Luckily, this ceramic hanging planter will make a stylish addition to any room! It has jute ropes and several decorative beads that match the glazed white finish, and the pot itself has a substantial 10-inch diameter that's ideal for mid-sized plants.
Get the Better Homes & Gardens Mylia Round Ceramic Hanging Planter from Walmart for $12.99
14. These affordable modern lamps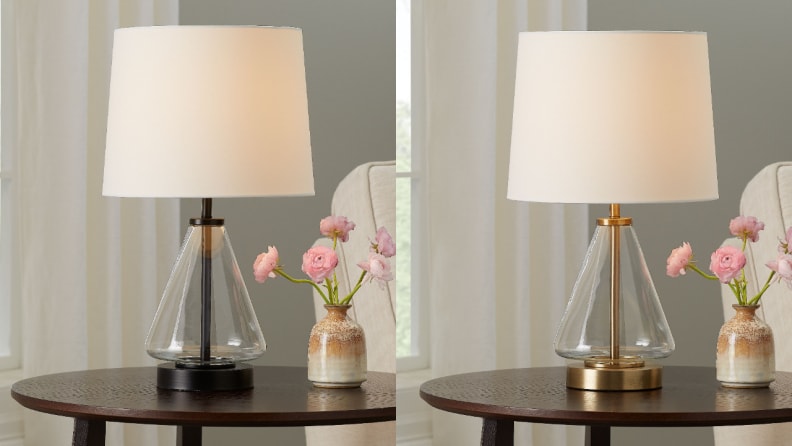 Table lamps are another item that can be unreasonably expensive, but not these ones! These lamps from Mainstays are extremely affordable, making them perfect for anyone who's decorating on a budget. They stand 18 inches tall with a cone-shaped glass base, and you can choose between black and gold finishes, depending on your decor.
Get the Mainstays Glass with Black Base Table Lamp from Walmart for $24.84
15. A big wall clock with a farmhouse aesthetic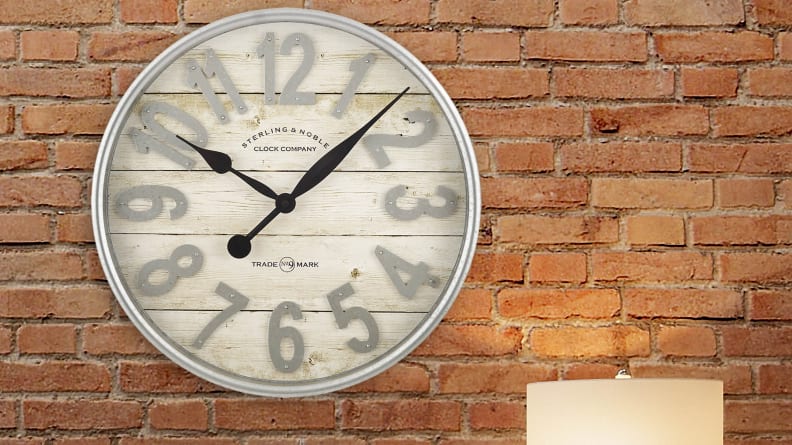 A beautiful clock is a must-have in any living space, and if your home has a rustic or farmhouse aesthetic, this wall clock is the way to go. It features faux wood planks surrounded by galvanized metal, and its oversized numbers are made from matching metal for a cohesive look. Reviewers love the overall design of this clock, and many say it's a great addition to a gallery-style wall.
Get the Better Homes & Gardens Farmhouse Plank with Galvanized Finish Wall Clock from Walmart for $24.92