We just got back yesterday from our quick weekend getaway with friends in Chicago. I will share more details in my next blog post, but for today's post I wanted to share a quick review on a skincare product line that I have been trying out for a while now, TULA.
I'm sure you have heard about TULA from so many bloggers and you may also be thinking, 'Are the bloggers actually telling the truth, or are they just getting paid to talk about the product?' Well, I can tell you that I AM NOT getting paid for this post at all. TULA sent me these products back around Christmas time and I wanted to use them for a good while before giving an honest review of each product they sent.
About TULA
TULA is a probiotic-infused skin care brand that is cruelty-free and toxic free – (no parabens, phthalates, no propylene glycol, no petrolatum, no gluten, and no mineral oil). Learn more about TULA on their website here.
You can take their skincare quiz on their website to determine what's best for your skin.
Products I've Been Using + Reviews of Each
I use most of the products morning and night with the exception of the Resurfacing Gel. I go back and forth between the Power Liquid and the Gel Cream as well.
• TULA Purifying Face Cleanser – I switch off with the Kate Somerville cleanser. The smell of the cleanser is a bit strong, but it's not too overpowering. It almost has a hint of baby powder as the scent. My skin feels amazing after using this though!
• TULA Aqua Infusion Power Liquid – This product has a great smell and is very lightweight. It is similar to the Gel Cream below and is also very moisturizing.
• TULA Aqua Infusion Oil-Free Gel Cream – I LOVE this stuff! It's super lightweight, but still super moisturizing. I like to use this more in the morning, but it can be used anytime. The cream is almost odorless too, which I love.
• TULA Pro Glycolic 10% pH Resurfacing Gel – I love the feel of my skin after using this. I use it every other day, just at night. The only thing I don't like about this is that it's hard to use a regular cotton ball with this, you have to use a flat cotton pad because when you use the pump, the product comes out very quickly and strongly, so if you have a cotton ball, it can get all over.
• TULA Hydrating Day and Night Cream – Probably my favorite!! Super hydrating and feels amazing on my skin!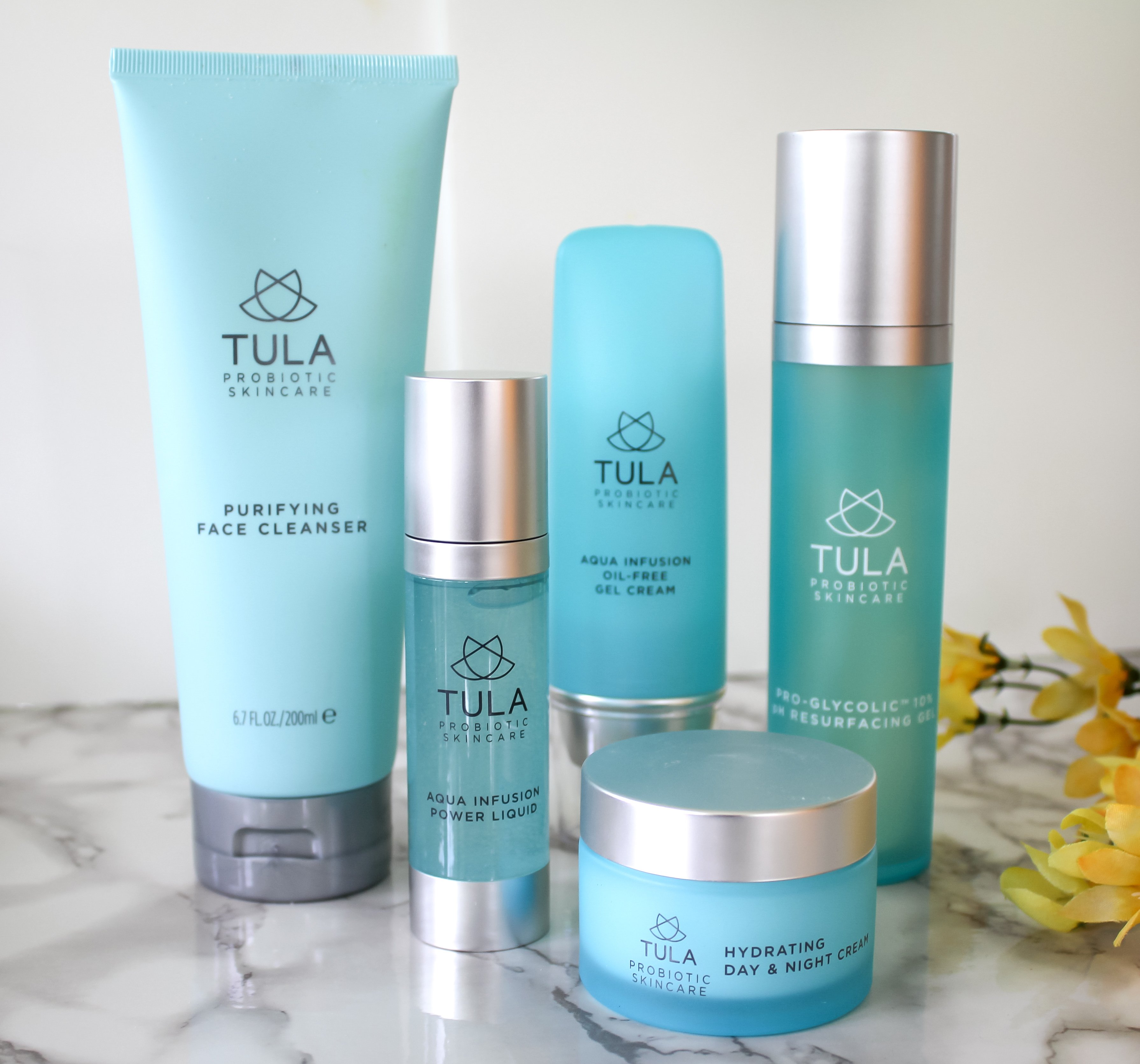 Overall, I have loved using TULA products! I will have to share my full nighttime routine on the blog soon so you can see what I use along with these products and in what order. The price point for these is super affordable. I would definitely recommend the brand and will definitely be purchasing more from them in the future.
I've also used the Kefir Moisture Repair – I got it as an add on to a FabFitFun box last year. It has an interesting consistency, but it feels great on the skin. I only like using it at night since it can feel a bit greasy, but I wake up the next morning and my skin feels great!