The iPad Pro hasn't changed physically since 2018, with Apple preferring to offer new features and functionality via iOS software enhancements rather physical changes.
For 2020 that's changed, albeit slightly, with the iPad Pro adding an improved camera setup to the existing design, while introducing a new processor too.
We've been using the 2020 iPad Pro to see whether the gap between tablet and laptop is blurring even more than ever. Is now the time to go Pro? 
12.9-inch 'Liquid Retina LED-backlit IPS display

2732 x 2048 resolution
120Hz refresh rate
600-nit brightness

Dimensions: 280.6 x 214.9 x 5.9mm
Weight: 641g (Wi-Fi), 643g (4G)
Finishes: Silver, Space Grey
New cameras enclosure
Having refined the iPad Pro design in 2018 with the introduction of thinner bezels and a Face ID camera, nothing for the 2020 model has changed on the design front – except for the new camera enclosure.
You still get the same 12.9-inch Retina Display, with the same resolution, same maximum brightness, same curved corners, same high refresh-rate, and other features such as P3 colour space accuracy and Apple's adaptive True Tone technology.
This laminated display is anti-reflective – although still expect some glare in bright conditions – and there's an oleophobic coating that does a good, but not perfect, job of coping with grubby fingerprints. There's no formal high dynamic range (HDR) support, but at 600-nits maximum brightness we don't suspect many will notice. This display is big, rich in colour and packed full of detail.
With the design an echo of its predecessor, that means the Pro remains wonderfully thin, at 5.9mm. Although the form-factor is identical, there is one small difference: the new and larger camera enclosure adds an extra 10 grams – not that you would notice – to the overall weight.
Those hoping for a return of a 3.5mm jack will be disappointed, as there still isn't one, but you do get four speakers – one in each corner – that certainly pack a punch whether you're playing games, watching movies, listening to music, or video conferencing (the last of which is oh-so-2020 don't you know). That's handy because, like before, the iPad Pro features five microphones, which come into their own when you're on a FaceTime call.
Triple rear camera setup

Main: 12-megapixel, f/1.8 aperture, 28mm equiv., 1.22µm pixel size, dual pixel phase-detection autofocus
Ultra-wide: 10-megapixel, f/2.4 aperture, 14mm equiv.
Time-of-Flight LiDAR scanner

Single front-facing selfie camera

7-megapixel, 1080p at 30/60fps
Face ID login
The front-facing selfie camera is the same 7-megapixel offering we had in the 2018 model. It's certainly good enough for video conferencing and supports Face ID – which makes unlocking your iPad Pro a hands-free experience. It also means you can use Animoji or Memoji. If you're a Face ID-carrying iPhone user then the experience will be second nature.
The camera is still positioned on the top, when in portrait mode, and that does present problems if you predominately use the iPad in landscape with a keyboard (as it's on the left hand side at that point). It's not where you expect to be looking if you're on a video call for work – especially if you're used to jumping between a laptop and the iPad, and even after 18 months of use we still look in the wrong place.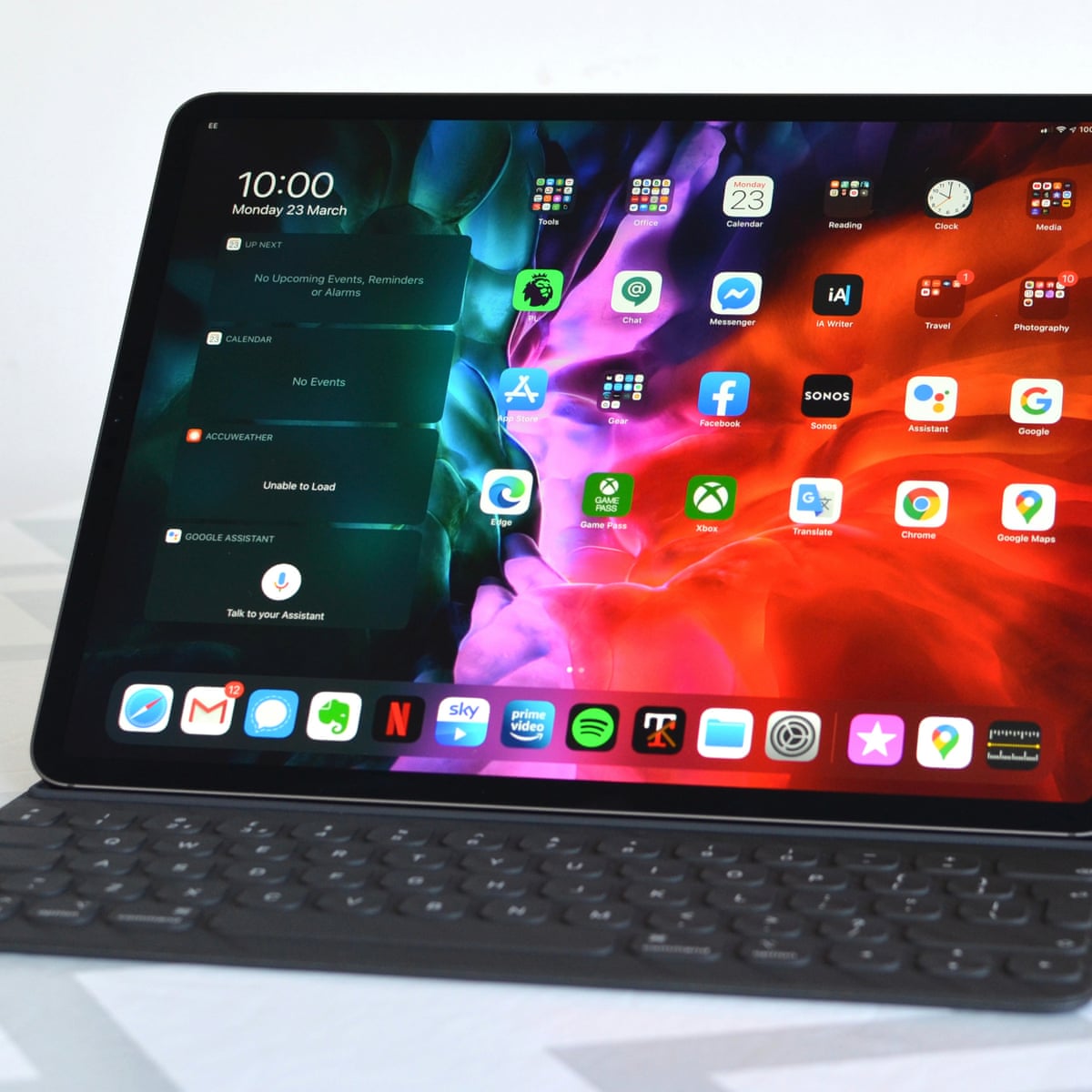 While the front remains the same, the 2020 iPad Pro's rear camera has been overhauled. The new Pro features a much bigger square camera enclosure that features two cameras and a LiDAR sensor.
While many will see the iPad as a camera replacement, many "pro users" have started utilising the iPad Pro as a image capture device for sports training, augmented reality, and a range of other jobs. It's no surprise, then, that the camera has been updated to represent these changes and service those who need it.
What is LIDAR and why is it in the new Apple iPad?
With that in mind you now get the same 12-megapixel camera as before, as well as an additional 10-megapixel ultra-wide camera. This wider view is a 14mm equivalent, making it able to capture very wide scenes. The new cameras means you also get 4K video support to 24fps, and 1080p at 120fps for slo-mo video as well.
And on top of the two cameras, you get a LiDAR sensor, which works with ARKit 3.5, that will make edge detection in augmented reality (AR) apps much, much better. The sensor will allow developers to do a host of things that haven't previously been possible because of the lack of accuracy on relying on the cameras.