The Apple iPhone 12 range has been split into four different models – the iPhone 12 mini, iPhone 12, iPhone 12 Pro, and this, the iPhone 12 Pro Max – giving us more choice than ever before when it comes to getting the company's flagship model.
From mini to Max: Which iPhone 12 should you buy?
While they all sport the same processor, same 5G connectivity, and same screen tech (albeit at different sizes, of course), if you look closer there are other differences. At the top of the range sits the iPhone 12 Pro Max, with its large screen and improved cameras.
We've been using the supersize model to find out if it's just about going big, or whether there's more to this iPhone than the others in the range.
6.7-inch all-screen OLED display, 2778 x 1284 resolution (458ppi)
Dimensions: 160.8 x 78.1 x 7.4mm / Weight: 228g
Finishes: Graphite, Silver, Gold, Pacific Blue
IP68 protection, ceramic shield screen
The 2020 iPhones sport a shiny new design that is more akin to the latest iPad Pro and Air models. Or, if you're harking back to yesteryear, the iPhone 4 from 2010.
That design change – which sees the buttons, speakers, and Lightning port stay in pretty much the same place as previous years – delivers a number of benefits. The main is that the 12 Pro Max packs in an even bigger screen than the iPhone 11 Pro Max from 2019 – it's now 6.7-inches compared to 6.5-inches – in a footprint that is roughly the same. If you're counting, the 12 Pro Max is actually a little thinner than its predecessor.
Screen bezel is still present – Apple hasn't gone all Samsung quite yet – but because of the flat surgical-grade stainless steel band edge around the device, it appears thinner.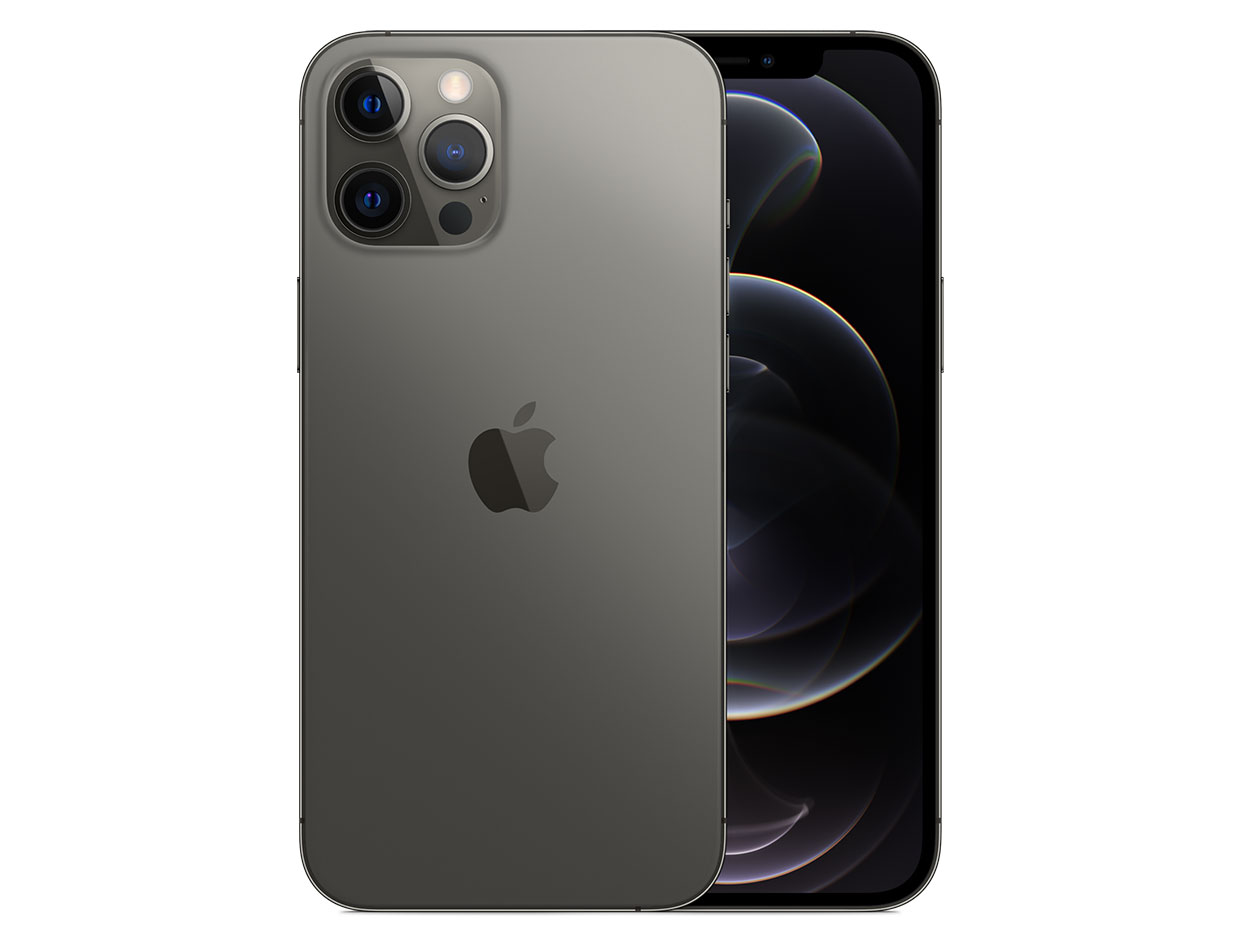 That screen sure is big, too, but Apple believes people always want bigger screens so why not give them that? It's an Apple Super Retina XDR display that's HDR Dolby Vision ready and comes with True Tone technology for adapting the colours to your environment. It's the same as found on the other models in the iPhone 12 range, just bigger.
Whether you're playing the latest game, watching a spot of Netflix or just reading an email, it's a luscious display. You won't find anything to complain about visually speaking. Although, given the size, it can feel weighty if you're holding it one-handed – have a 20 minute FaceTime call and you'll be begging for it to be over so you can rest your arm.
The 12 Pro Max comes in four colours – Graphite, Silver, Gold, and new Pacific Blue). The gold is very gold – gold jewellery style, which you'll either like or despise. But at least the frosted glass back, which is a lot more neutral, does help tone things down a bit.
In the top left corner, you'll find the phone's three cameras, a LiDAR scanner, flash and microphone. Because the new camera sensors are different from the iPhone 12 Pro model, the camera enclosure is considerably bigger. That's one of the key things about the Max.
Performance and battery
Apple A14 processor
3,687mAh battery
20W fast-charge
5G connectivity
Like the other phones in the iPhone 12 range, the Pro Max is powered by Apple's A14 processor. It's fast, loads games and apps quicker than last year's processor, but really focuses its power on making sure the iPhone can cope with the image and video processing you'll be asking it to do. Those camera mean it's now being asked to do a lot.