The Apple Mac mini has been around in one form or another for the best part of 15 years. It may not be a top seller, or a model you see millions upon millions of people using, but it clearly has strong appeal that's seen it last as long as any of Apple's product families. 
What makes it attractive now is the same thing that made it attractive back in 2005 (when the PowerPC G4 version first shipped): it's small, it's powerful and it's a lot less expensive than an iMac.
And while this Mac mini looks identical to the one that's been on store shelves for the past couple of years, it has a totally new brain: Apple's M1 processor. So what does that mean and does it make for the best miniature desktop machine you could buy?
Minimalist to the extreme
Case built from recycled aluminium
Dimensions: 197mm square x 36mm tall / Weight: 1.2kg
Ports: 2x USB 4/Thunderbolt Type-C, 2x USB-A, 1x Ethernet, 1x HDMI 2.0, 1x 3.5mm headphone
Like the M1-updated MacBook Air and MacBook Pro, nothing has changed for the Mac mini from a visual perspective. It's still that minimalist rounded-edged square aluminium case with the Apple logo in the centre, with nothing but a single white LED on the front. All the 'ugly' ports are hidden at the back, so that if you want to hide all your messy cables then it's easy.
We'd love to see one or two more Thunderbolt ports and an SD card reader in future models though (as much as the latter is highly unlikely). It certainly seems like there's adequate space, though, so we can't fathom why there isn't a card reader on a machine that's otherwise primed and ready for creators. The same can be said of the MacBook Pro, really.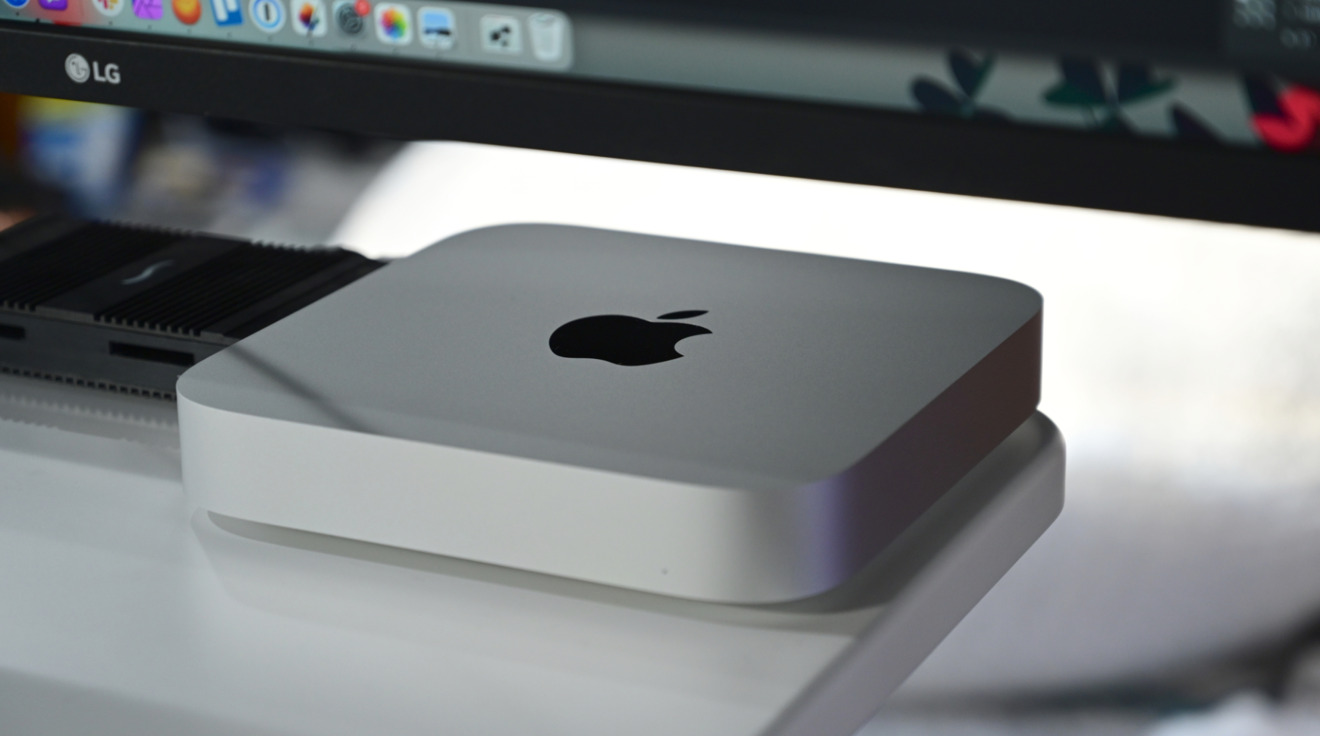 It's not unusable with this number of ports, of course, but we had to rely on a Thunderbolt 3 desktop dock to get constant access to an SD card and microSD card reader. It also expanded our options for additional ports and – just as usefully – gave us a headphone port that we didn't need to reach around the back of a computer to gain access.
Which monitors can I use? 
Thunderbolt supports 6K up to 60Hz
HDMI 2.0 port supports 4K up to 60Hz
Thunderbolt 3 to Thunderbolt 2, DVI and VGA adapters available
We can't talk ports without talking monitors, which is certainly something to consider before deciding on whether to get a Mac mini or not. In this home office there's been a USB-C LG monitor for a good few years. Primarily because it's a monitor with multiple input options, and because for a good chunk of time, the MacBook Pro was our home computer of choice. 
The model we paired up is the LG 27UK850. It's a 4K 27-inch monitor that supports up to 60Hz refresh rates and is pretty much perfect for the Mac mini. You can plug it either into the HDMI 2.0 port on the back, or use one of the USB-C/Thunderbolt ports. 
he good thing about this particular monitor is that it also features two USB-A ports on the back, so you can effectively use it as a desktop hub if you need to plug an extra couple of peripherals in, like a USB microphone or a wired keyboard.
Anyway, enough about the monitor. The real thing to note with this Mac is that you can connect up to two monitors. But you do need to split it between the HDMI port and one Thunderbolt port. Using two screens, you get 4K and 60Hz on both. For higher-resolution monitors, you're limited to just one monitor and you have to use one of the Thunderbolt ports as the HDMI maxes out at 4K. Those power users who like three or more screens won't have much luck here, but we suspect those users are few and are already using a Mac Pro. 
M1 power
8 core M1 processor, 8GB or 16GB RAM
8 core GPU + 16 core Neural Engine
256GB/512GB/1TB/2TB storage
A lot has been said about Apple's M1 processor. That's not exactly a surprise though. Following years of partnership with Intel, Apple used the expertise it's built up following years of putting powerful ARM-based chipsets in its smartphones and iPads, and applied that to a custom processor for 'proper computers'.