Hostinger is a web hosting company that is owned by its employees. It was founded in 2004 and originally had the name Hosting Media.
However, in 2011, once the company reached the milestone of having a million users, its name was changed to Hostinger.In 2007, Hostinger was a subsidiary of 000webhost.
The goal was to provide free web hosting around the world. Today, Hostinger has more than 25 million users worldwide, with subsidiaries that are in more than 178 countries. It serves as the parent company of 000webhost, Weblink, and Niagahoster.
It is estimated that 20,000 new clients sign up for this service each day. Hostinger boasts that they can allow their clients to create a website with complete freedom. In this review, we are going to look at some of those claims to see if this European host is any good.
What Is Hostinger Known For?
When talking about itself, Hostinger is direct and to the point. They don't use glossy terms to describe their service. Instead, they say that they are all about cheap web hosting.
This is Hostinger's entry-level plan. It is not designed to have all of the features you will see in some of the other plans we are going to review. However, when you are paying just $1.45 each month or even less with discounts, you really cannot complain about the features being offered. The plan only allows you to host one website.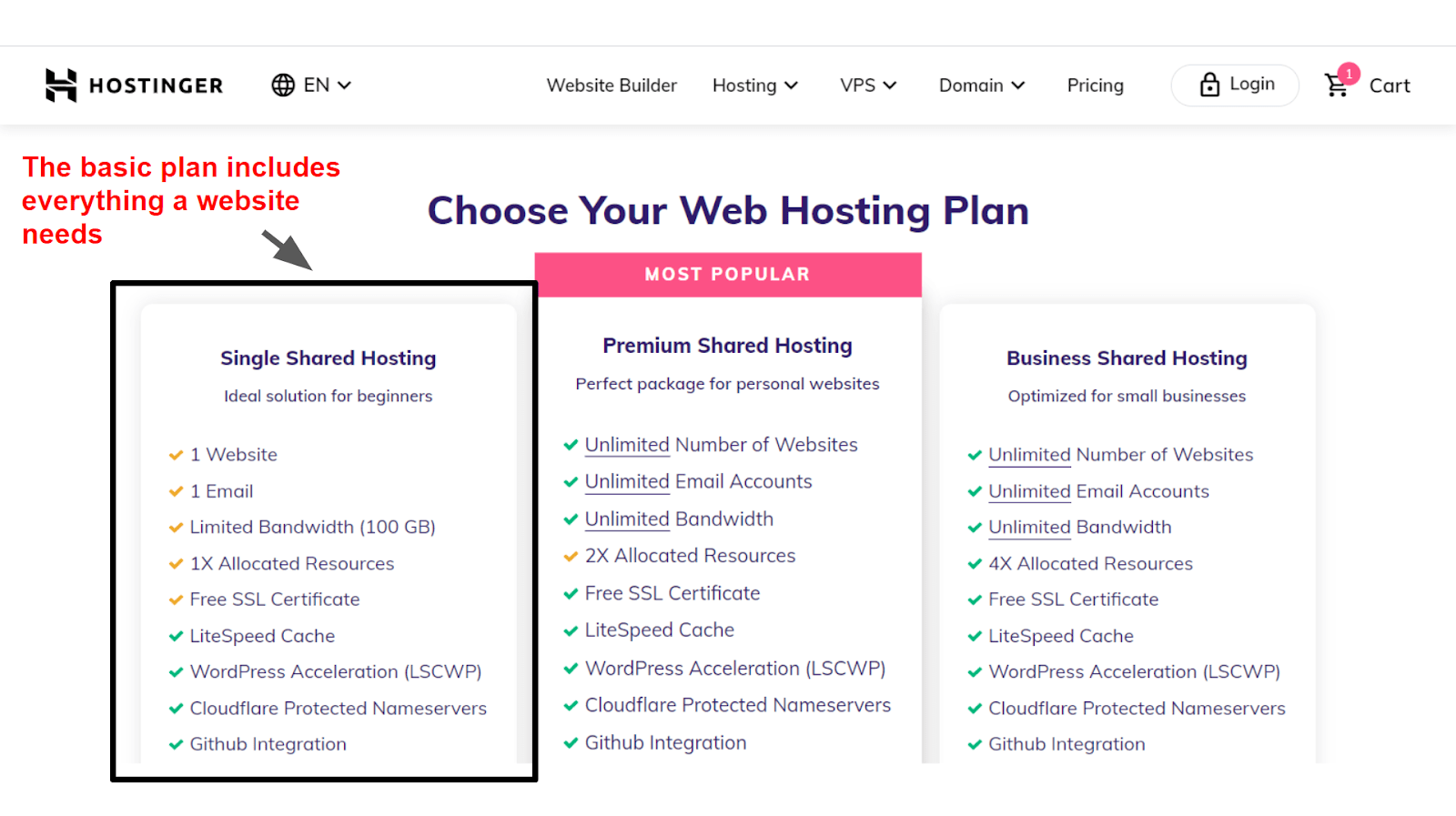 With this plan, you are paying two times what you would pay with the previous plan. However, you are looking at a completely different package. This plan gives you access to just about all of the functionality and the power that Hostinger offers.
This has been made for people who have multiple sites and who are concerned about speed. With this package, you can have as many websites as you want, use as much disc space as you need, and chew up an unlimited amount of bandwidth. There is no limitation on the number of MySQL databases that you can have, and you can create an endless number of FTP accounts if you choose to.
Business Web Hosting
For just a couple dollars more, you can enjoy the benefits of the Business Shared hosting package. This is the most comprehensive service that they offer. Everything that we reviewed in the Premium plan is included in the Business plan.
The major difference you are going to see is the RAM and CPU allocation. Both of these are doubled in the Business plan. This is going to have a major impact on the performance of your site. The Premium plan is already quick. By doubling the speed with the Business plan, your service is so fast you cannot help but be amazed.
VPS Hosting
We want to briefly discuss the VPS hosting packages Hostinger offers. Hostinger's VPS plan makes it possible for a webmaster to get good speeds, reliability, and a reasonable price. Their VPS plans start at around $4.95 a month and go up to $75 a month.
The specifications for each plan vary, but they offer between one GB and eight GB of RAM. The CPU range is between 2.4 GHz and 14 GHz.
Uptime and Load Time
Very few things can get the blood boiling like trying to access a website and waiting patiently for it to load. Although the site's load time is probably just a couple of seconds, in this world where we are accustomed to getting near-instant response times when we surf the web, waiting one or two seconds for a page to load can seem like an eternity. In most cases, the hosting company is to blame if the speed is slow.
Hostinger's Features
One of Hostinger's key selling points is the abundance of features it offers users. Whether or not all of these features are going to be useful for you will depend on what you intend to do with the service.
Free Website Builder and Free Domain Name
Hostinger comes with a free website builder. The website builder has a lot of nice features. It comes with several popular templates that allow you to get your website up and running very quickly.
Free Web Hosting
As we mentioned at the outset, 000Webhost is owned by Hostinger. 000Webhost offers a super basic free web hosting plan. However, we want to emphasize that you get what you pay for.
Upfront About Its Pricing
It is standard practice in the industry for hosting companies to use a few pricing tricks. Hostinger is no different, but they are honest about what they are doing.
Support
Having good customer support is a must with a web host. If your site is down and you cannot get in touch with the individuals responsible for customer support immediately, you could lose out on a bunch of money. Customer support with a service like Hostinger is even more important. As we have discussed, to get their cheaper prices, you need to get locked into a four-year deal.
Conclusion
We have tried to present an unbiased view of Hostinger. As with all hosting companies, there are a few things that we would like to see them improve. However, from what we have seen, their overall service is quite good, especially for the price that they offer. In the past, it has been our experience that when you deal with hosting companies that focus on offering a cheap service, you get junk.