LG is probably not the first name that comes to mind when you think about laptops. But its Gram series is quite remarkable.
These are some of the lightest laptops in the world, have ultra-long battery life, and no obvious compromises in performance. And the LG Gram 17 takes this to a whole new level.
It's a 17-inch laptop, nowadays pretty odd in itself. But it is perhaps the only 17-inch laptop we'd want to carry around, between cafes, office and airports, every day. It is mind bendingly light for this scale, and thanks to reasonably slim screen borders, should fit just fine in bags designed for 15.6-inch laptops.
LG has chosen a totally different route to innovation than Apple, Dell or Asus. And we kinda like it.
Finish: 'Nano Carbon' with magnesium casing
3x USB-A, 1x USB-C, 1x HDMI, 1x microSD
381 x 267 x 17.8mm / 1.3kg
In case that all sounded too much like a preamble to a load more back-slapping, let's start with one of the LG Gram 17's most important bad bits: LG uses a magnesium alloy with bits of 'nano carbon' packed in, in order to keep this laptop light. Magnesium is strong, carbon is stiff.
It's a good combo, but we bet 90 per cent of you won't exactly be bowled over by how it feels. If you put the finger sensation of plastic, paper and aluminium into a tactile cauldron and gave them a stir, you might end up with the LG Gram 17's case.
Lots of people mistake magnesium for plastic at first touch, and this alloy is no different. The Gram 17's lid and main panels flex more than the relatively thick aluminium of a MacBook Pro 16 too. If there's a price for the low weight, it's this.
However, there's very little reason to even consider the LG Gram 17 if the 'low weight, big screen' thing is not a huge draw. And while the keyboard plate does flex a bit if you press it down very hard, it's simply not an issue for normal use. This may not initially seem like a very well-made laptop, but it is one.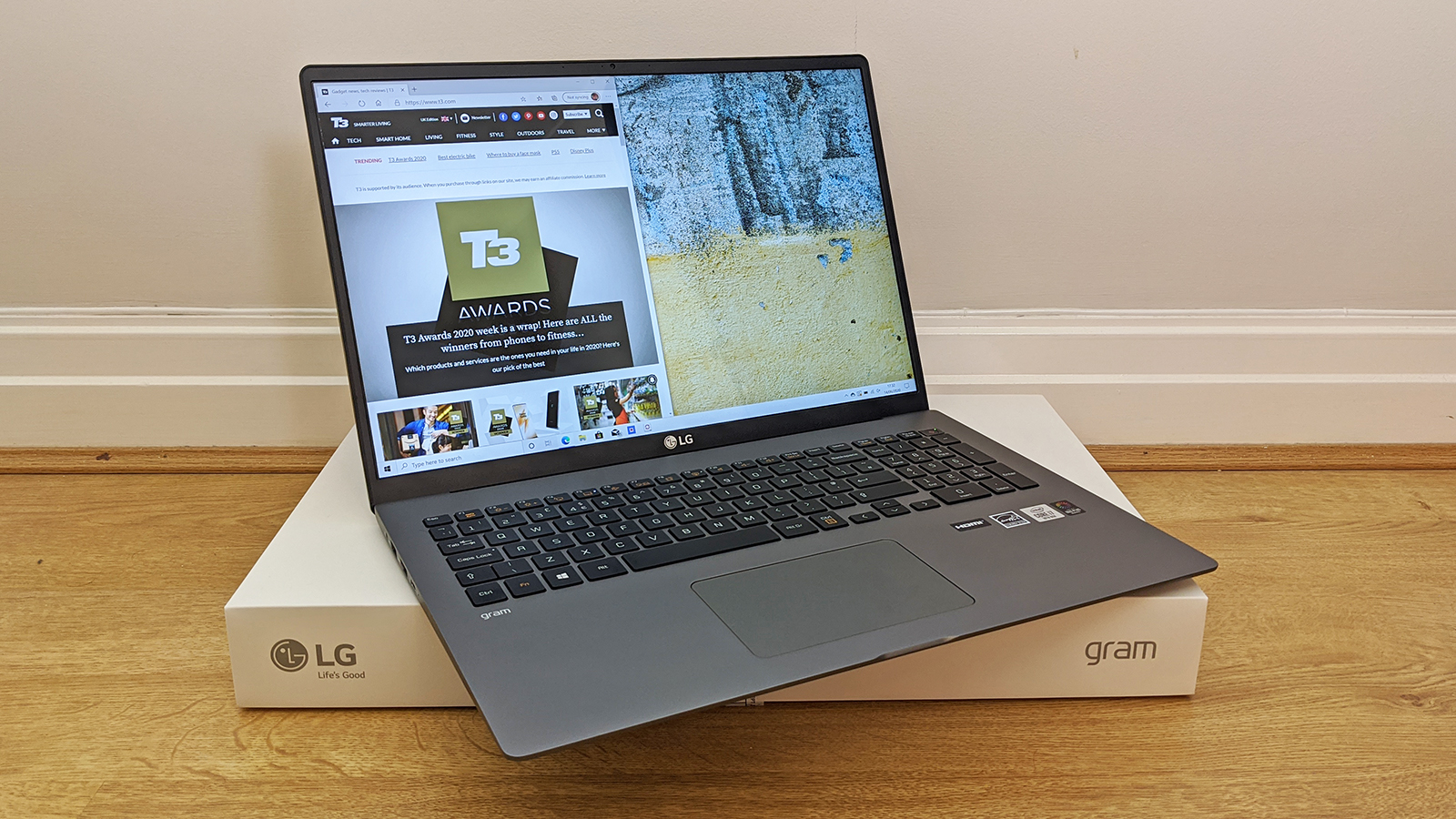 LG also waves bye-bye to the headache of adapters. This laptop doesn't dump all traditional connectors as if we are all founders of Silicon Valley start-ups with PAs at our fingertips and AI assistants in our ears. It has three USB 3.0s, a Thunderbolt 3 USB-C, HDMI, microSD and a Kensington lock socket for the corporate crowd.
The LG Gram 17 is made for practicality from the ground up, and for frequent travellers like us, that's a massive plus.
It is not a beauty as such, though. Its screen is not full-flat, with a lip around the edge, and its style is arguably basic rather than tastefully minimal.
LG's keyboard font also has the faint air of a 90s hacker movie. But if that's going to bother you for more than a day or so, suck up the extra grand (or more) and buy a MacBook Pro 16.
Screen
17.0-inch IPS LCD panel
2560 x 1600 resolution
Glossy finish
The LG Gram 17's screen is really the main event, but there's not much to say tech-wise here beyond what you already know. That being: it's huge.
That's a big benefit for everything from working on boring spreadsheets to playing games. We switched to the LG Gram 17 from the 13-inch MacBook Pro we usually work on, and it is a completely different feel. What we do most of the time – writing – doesn't really justify a 17-inch experience; but for detailed image editing and music production it's superb.
LG has also bumped up the resolution from standard Full HD (1080p) to a higher resolution (2560 x 1600), to make sure the larger screen doesn't just mean bigger pixels. It's not as sharp as a 16-inch MacBook's panel (3072 x 1920 ), nor does it go quite as bright, and the colour is not as rich either.
However, after reviewing a Currys PC World store's worth of laptops over the last year or two, we're still happy with every aspect of this LG screen. Colour, brightness, contrast and sharpness are all more than solid; in isolation you won't notice it's not quite MacBook levels.
The style of the screen once again shows the specificity of LG's focus too. This is not a touchscreen, the hinge flips back around 140-degrees rather than full-flat 180-degrees. The LG Gram 17 isn't a hybrid, it doesn't have extra screens, and doesn't make any ridiculous compromises for its ultra-low weight.
This is a glossy screen rather than the matte kind used in most 17-inch laptops, but this perhaps fits the XL lifestyle laptop angle better anyway. Glossy screens tend to look better than matte ones, but make reflections more obvious and distracting, which can be a pain when working outside or by a strong source of daylight.
Keyboard and trackpad
Chiclet keyboard with NUM pad and 2-stage backlight
Embedded finger scanner
Textured glass trackpad
The balance of style and seriousness extends to the keyboard and trackpad too. LG has taken a more traditional route than Apple, adding a NUM pad to the right of the standard keyboard layout.