For a company that's always seemed adept at reading the writing on the wall, Scottish audio authority Linn has taken its sweet time to deliver its debut wireless speaker. After all, Linn has been at the forefront of digital audio streaming for well over a dozen years.
Before 2009 was over it had discontinued its (very well regarded) range of CD players – remember those things? – in order to concentrate its efforts where it knew the real digital audio action would be; it wasn't long after this the company started using its Exakt digital audio processing engine to transform its loudspeakers into digital audio systems.
'Forward-thinking' and 'intrepid' aren't the same as 'reckless', though. Linn has held off from joining the high-end wireless speaker fracas until its Exakt technology can be integrated into a product that fits that most intangible of marketing requirements – yes, we're talking 'lifestyle' – as well as sounding good enough to justify wearing a Linn badge.
And so, finally, there's the Linn Series 3. It's certainly among the most expensive wireless speakers around, but Linn reckons, with its usual directness, that it is "the best-sounding wireless speaker in the world". And you know what? We're finding it hard to disagree…
Design
Dimensions: 30 x 25 x 21cm
Laser-cut grille
No matter what it reminds you of, there's no denying Series 3 is a striking looker. And it's almost as tactile a pleasure as it is visual – the cabinet is cast from a mineral compound more commonly deployed in high-end kitchen ceramics, and is then hand-finished until it's flawlessly smooth. Like stone, it's cool to the touch and, like stone, it's stiff and dense and inert enough to make an ideal acoustic material.
Part of its visual allure comes from its mild irregularity of shape. Width of 25cm and depth of 21cm help its proportions, and the front of the cabinet is flattened off a little to allow the thin, stiff and uncomfortably reflective grille to sit flat. The top of the cabinet isn't level, either – it slopes forward gently, all the better to display its impeccably integrated glass top-plate.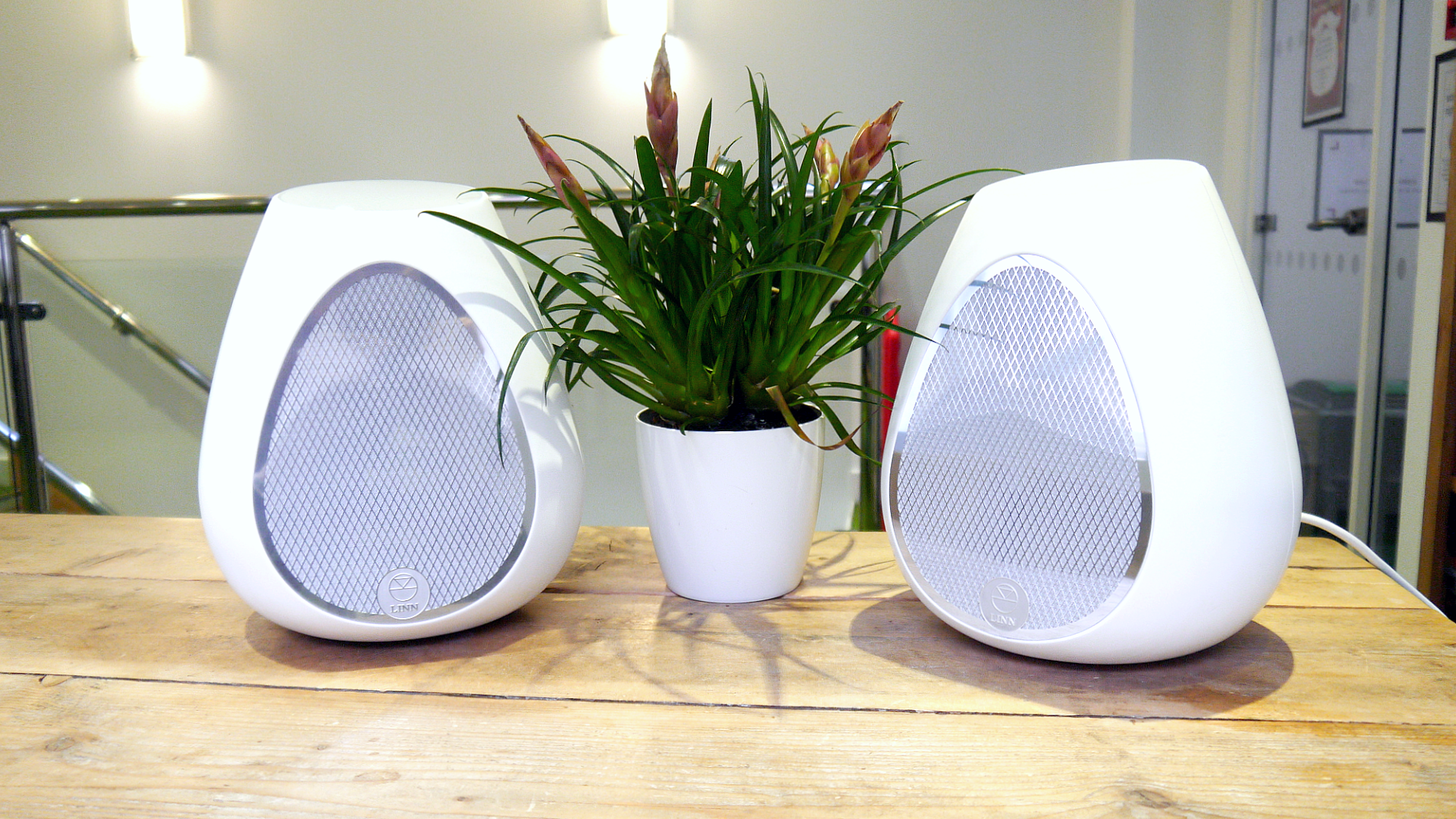 Features
200 watts of power: 100W 19mm tweeter; 100W 160mm driver)
Roon Ready, AirPlay 2, Bluetooth 4.2, TuneIn internet radio
Exakt digital engine
24bit/192kHz
Many wireless speakers can be deployed as a stereo pair simply by buying two of them. That's not quite how it works with Series 3.
£2950 buys you a '301' speaker, which is absolutely stacked with functionality. On the inside it's packing a couple of Class D power amplifiers of 100 watts each – that's one to drive the 19mm silk dome tweeter and another to power the 160mm doped paper mid/bass driver beneath it.
Towards the bottom of the rear of the cabinet are the speaker's physical inputs. There's mains power (of course), an Ethernet socket (for ultimate wireless stability), an HDMI ARC socket (in case you want to give your video sources the Series 3 treatment) and an Exakt Link. This last looks a lot like an Ethernet socket, and is used for connection in a stereo pair.
But naturally, the Linn is mostly about its wireless prowess. The Series 3 is Roon Ready, so any networked audio (up to a chunky 24bit/192kHz standard) is accessible; Apple AirPlay 2 and Bluetooth 4.2 are available for straightforward streaming. Streaming services – including Spotify, Tidal and Qobuz – are integrated into the Linn/Kazoo control app, as is TuneIn internet radio (although Linn's ongoing antipathy towards MQA means Tidal Masters files are available only as 16bit/44.1kHz facsimiles).
No matter how you get your digital audio information on board your 301 Series 3 speaker, though, once it's there it is pored over by the Exact digital engine. Basically, Linn is seeking to keep all this complex information in the digital domain for as long as possible. So any sub-192kHz stuff is upsampled to this resolution, as it's at this standard the Exakt engine performs its digital crossover filtering. The file is then upsampled again, to a heady 768kHz, in order to bypass all digital-to-analogue stages. Only then is it fed to the power amps, having been held as digital information until nanoseconds beforehand.
This is how Linn's Exakt engine operates in the company's other digital audio systems, plenty of which cost plenty more than the Series 3. It's a painstaking, complicated and expensive process, and it's one in which Linn has absolute faith.
To get the same results from a true stereo Series 3 setup, you'll need a '302' speaker to go along with your 301. In terms of driver specification and on-board amplification, the 302 is identical to the 301 – but it is in effect slaved to the 301. The 302 has just a mains power socket and an Exakt Link input, from which it connects to 301 in order to receive all its audio information. That's why a Series 3 'system' is a little less than double the price of a stand-alone 301.