You might look at the 'Power' part of the Moto G9 Power's product name and think it's got some ultra-snazzy processor tucked away inside. But you'd be wrong, for the G9 Power is all about longevity – thanks to a massive battery under the hood (it's 6,000mAh, which is about 50 per cent more than most top-tier flagships dare squeeze into their frames).
The G9 Power is part of a fairly long lineage of long-lasting devices from Motorola. But it's a rather different phone to its predecessor: not only does it boost the battery capacity (up from 5,000mAh in this G8 Power to 6,000mAh here), it also ups the screen size – but cuts the resolution – while simplifying the camera experience to make for a stripped-back and even more affordable device.
It's fairly rare to see product prices drop generation to generation, but that's exactly what the G9 Power has gone with. That places it into a very affordable bracket, aiming at those looking to buy a phone outright for SIM-only use. It's got some specifications that miss the mark, but at this price that's entirely expected, so how does the full experience stack up?
Design & Display
Display: 6.8-inch IPS LCD, 720 x 1640 resolution, punch-hole camera
Dimensions: 172.1 x 76.8 x 9.7mm / Weight: 221g
Finishes: Electric Violet, Metallic Sage
Fingerprint scanner to rear
3.5mm headphone jack
Because there's such a big battery inside the Moto G9 Power is rather chunky. But we're not talking morbidly obese. This handset has rounded edges and corners, while its footprint isn't that different to many current top-end flagship devices, so it's fairly comfortable to hold. It's not lightweight, though, being about the same as an iPhone 12 Pro Max – i.e. one of the biggest, most complete phones on the market right now.
Not that Motorola is looking to compete directly with such an Apple product. The company has been slowly but surely refining its handsets over the years, trimming back on bezel, on excesses, and in the case of the G9 Power on some features too. There's still the much-desired staples here – the 3.5mm headphone jack is in tact, for example – but while there's a rear fingerprint scanner it's positioned so far up the device's body that it's a bit of a pain-in-the-backside to use.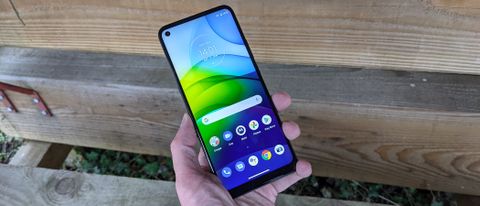 The G9 Power's screen bezels are trimmed to a relative minimum, too, delivering a rather large 6.8-inch panel (on the diagonal measure) – which means there's a lot of screen real-estate to occupy your eyes. There's no notch either, although the punch-hole front camera is a wider diameter than you'll see on many other devices and, as such, it's a little eye-catching in a not-so-good way.
But the big downer about the G9 Power's screen is the resolution: it might try and sell it as an "HD+" resolution, but with just 720 by 1640 pixels it's closer to the "HD Ready" tellies from years back. For a product you use fairly close to your face that limited pixel density can be seen – games show off jaggies on diagonal lines, details just lack compared to what else you can get on the market.
In terms of design and finish, the G9 Power feels fairly plasticky because, well, it is. But it's robust and well built enough to survive its share of (unintended) abuse. We're not totally sold on the purple or green colour options though – subdued as the "Metallic Sage" option looks compared to its name, it's hardly top-end eye-candy. The subtle texture to the rear does bring some dynamism, though, while fingerprints are fairly hidden in the main.
Performance & Battery
Processor: Qualcomm Snapdragon 662, 4GB RAM
Software: Android 10 operating system, Moto app
Battery: 6,000mAh capacity, 20W charging
When dealing with budget phones you might not expect great performance, but actually we've found the G9 Power to handle reasonably well as a day-to-day device. No, it's not a flagship replacement, but you already knew that it wouldn't be for this kind of money.
Under the hood is a Snapdragon 662 chipset, which is good enough for handling multiple apps and even some gaming. So if you're a Candy Crush fiend or, like us, love a bit of South Park: Phone Destroyer then there's nothing game-breaking in here. The phone's graphical chops aren't 100 per cent up to task, though, as you'll see certain textures aren't rendered sharply and sometimes frame-rates drop. But we've seen a lot worse and it's all manageable.