When the Motorola Razr burst back onto the scene in 2020 – some 15 years after the original – we were enamoured by the iconic clamshell in its new-fangled form.
Now the Razr is back in second-gen 5G form, making inroads to improve some of its predecessor's shortcomings – limited battery life, 'crunchy' screen unfolding sounds, second display functionality, so-so cameras, among other things – that its customer base had been highlighting to Motorola since launch.
At a glance the new Razr isn't radically different, it's more akin to a polished-up version of the 2020 model – and, perhaps, closer to what that major launch device should have been from the get-go.
Why would you want a flip phone?
Foldable clamshell design with patented 'zero gap hinge' mechanism
Folded: 72.6 x 91.7 x 16mm / Unfolded: 72.6 x 169.2 x 7.9mm
Weight: 192g
First up, a little refresher on what the Motorola Razr is all about. If you think about any smartphone you've had in your pocket over the last decade, it'll most likely be a single-screen solution. But over the years such devices' dimensions, on account of larger screens, have enlarged to sometimes mammoth proportions.
Enter the idea of flexible displays to deliver a bigger screen experience from a smaller form factor. The Razr is essentially a half-size clamshell phone which flips into fully formed device. As it uses a POLED display (that's 'plastic OLED') there's no need for two screens on the interior: it's one internal panel that's flexible and folds down the centre without leaving much of a crease.
Unlike other flexible display devices, the Razr uses a stainless steel frame and a proprietary hinge mechanism – called a 'zero gap hinge', which comes complete with its own patent – that sees moving plates slide into place behind the screen, maintaining rigidity and form. It does a good job, although it's not perfectly smooth – as we've felt when running fingers over it.
The Razr doesn't just offer the one screen, though, as there's the Quick View display on the front of the device. In the 2020 phone this was used for at-a-glance notifications and some interactions. The 2020 Razr steps things up here by opening to door to a much fuller suite of apps – they're not officially compatible, but the software does warn you when that's the case, and even then we've found having a mini WhatsApp, as one example, to be handy.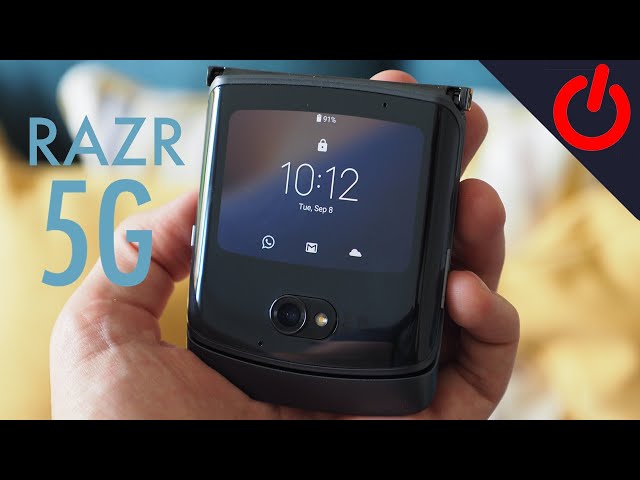 Just like with the 2005 original, the modern Razr's design means you can answer a call by flipping the phone open, or expand upon the Quick View display's open app/notification to then expand it across the full interior display.
However, do you really need a small exterior display to your phone? We've been mulling this over since using the Razr and – while our Quick View display use has definitely increased – many users will already have, say, a wearable (from Apple Watch to Fossil Gen 5) – and then jump over to their phone as needed, meaning two devices could be the more practical solution.
Furthermore when it comes to unfolding the Razr we still don't find it's a one-handed use case. It's a touch fiddly and, well, risky to try and throw open a pricey phone such as this. With two hands, however, you'll probably open the Razr's screen an almost annoying number of times to satisfy an itch you didn't know you had.
As we said of the 2020 model: "sure, there's some nostalgic appeal to such a design, but it's not a form factor that exists solely for that reason. This is a design that's functional, that stands out, that feels different". That's a big part of the reason you'd want a Razr 5G: to turn heads, to make conversation, to be one of those who thinks differently.
The flip phone is back and better than before
Finishes: Polished Graphite, Liquid Mercury, Blush Gold
Stainless steel and glass construction
Fingerprint scanner moved to rear
Water repellent (not IP rated)
The Motorola Razr 5G – or simply Razr (2021) as the USA will be calling it – is a definite step forward over its 2020 predecessor. At a glance you might not spot a huge number of differences, but there's plenty to point out.
The biggest of the lot is the repositioning of the fingerprint scanner: it's moved from the front (in folded form) to the rear (in either folded or unfolded form) to make it more readily accessible. Great idea, except it's really low down for a fingerprint sensor position. Over our 10 days of use our finger has naturally drifted downwards to adjust for this, but it still doesn't feel quite right.
A better solution, we think, would have been to put a sensor under the Quick View display instead, as that's easily reachable once the Razr is unfolded; plus it'd be useful to have a quick thumb-based unlock when the folded phone is sat on your desk and the rear scanner then hidden.
As a result of the fingerprint scanner's position the 2020 Razr's 'chin' is more tapered than before, though, making for a neater looking device in its closed form. The new camera – which we'll touch upon later – also looks far better and more integrated.