Now TV is the pay-as-you-go streaming version of Sky, with various bundles to choose from. It's ideal if you want to watch Sky Sports, Sky Cinema or Sky's entertainment contract but don't want to sign up to a long term (and costly) deal; perhaps if you only want Sky Sports over the cricket season or Sky Cinema over the winter.
You've long been able to buy Now TV devices to plug into your TV, but when this device first launched in 2018 it wasn't able to stream particularly high quality. Thankfully, that's now been fixed – with Full HD content available if you pay for the Now TV Boost supplement. So here's why the Now TV Stick might now be worth your time if you have a not-so-smart TV that needs sprucing up.
What's the competition like?
Before we get into the details of how the Smart Stick performs, it's worth looking at what rivals it's up against. The two main competitors are the Amazon Fire TV Stick (the price is similar) and Google's Chromecast.
If you've got Roku, YouView, EE TV, Apple TV, a PlayStation 3 or 4, Xbox 360 (or later) or a 2015-or-later Samsung or LG Smart TV then you can already get access to Now TV through its app. We suspect this means most will not need this Smart Stick, therefore, except to bring content to older tellies (so long as there's a spare HDMI port to connect).
Now TV boasts monthly entertainment, movies, sports and kids' passes. There are bundles, too, to combine multiple content options at lower price points than buying individually.
The Now TV Streaming Stick is subsidised by Sky as a gateway to signing up for the packages. If you subscribe you can also watch Now TV content through a computer or mobile device in addition (up to four devices are supported).
Now TV vs Now TV Smart Box vs Sky Q: Which Sky package is right for you?
The Now TV Smart Stick will also give you access to catch-up services including BBC iPlayer, ITV Hub, Demand 5 and All 4, plus you can download over apps including YouTube, Sky Store and Vevo. As such, it's a great way to bring catch-up TV to an older TV or a TV where the built-in apps aren't as good.
Design and remote
Standard HDMI dongle design
Powered via USB port
No included extender cable
Nicely-designed Wi-Fi remote included
The Now TV Smart Stick is a standard HDMI dongle – so it can plug directly into your TV or another screen (or something like a projector). As with other dongle-designed streamers, USB power is required from a 5W charger (included in the box). Refreshingly, USB power could be from a port on your TV. This is unusual since usually device manufacturers recommend using the included mains supply, but we always prefer using the screen so the device powers down when the TV does.
It's worth noting that there's no extender cable in the box as with many other similar devices, so you'll need a little bit of room next to your HDMI port for it to fit in or you'll need an extender, which you can pick up for next to nothing. This may be necessary if there's lots of close-together filled HDMI ports and you can't squeeze the Stick in among them.
The new Wi-Fi remote doesn't need line-of-sight control (essential for a stick that will probably be around the back of your TV). The remote is well-designed and doesn't feel cheap, despite the price.
As well as basic menu navigation controls, there's also a Kids button for easy access to the Kids section of the guide; a My TV quick access control so you can see programmes you've saved or are in the course of watching; and a Sky Store button – as the Now TV Streaming Stick gives you access to Sky's download store where you can buy or rent blockbusters at the same time that they come out on DVD or Blu-ray (so before they're shown on Sky Cinema).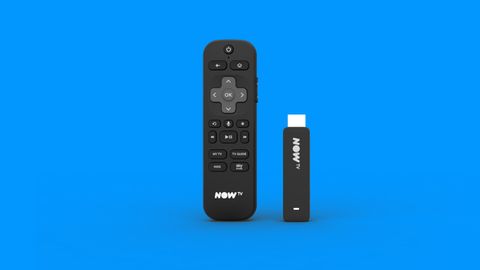 The remote also features a microphone button. As on Sky Q, Apple TV or Fire TV with Alexa you need to hold this button while you talk into the remote. You can ask for a director or actor by name and all relevant content will be dredged up from Now TV content (though not, for example, from BBC iPlayer or other catch-up services).
You're also able to ask for a particular app, like BBC iPlayer, by voice. We found it generally quite effective providing we were crystal clear – there were a few queries we tried where the remote didn't recognise what we said – as it's a simpler voice offering than, say, Amazon's solution.