A solid outdoor furniture set is the ideal way to help you escape cabin fever and create some sense of normalcy amid these bizarre times. And until we can safely socialize indoors, backyard hangouts will have to be our go-to mode of gathering.
When shopping for outdoor furniture online, you don't have to feel like you're settling. The best pieces and sets you can buy are sleek, comfortable, durable, and affordable. From full dining sets to chairs, sofas, and more, these 12 top-rated outdoor furniture pieces are all you need to start your summer on the right foot.
Furniture sets
1. A three-piece conversation set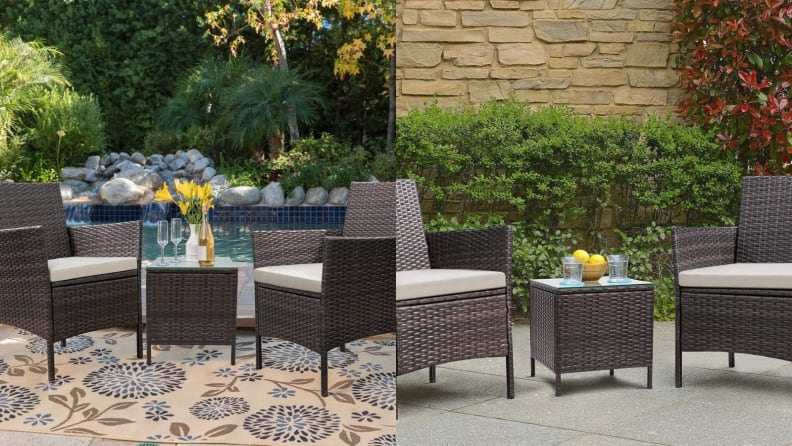 This Amazon best-selling three-piece furniture set with over 1,800 reviews includes two rattan steel-based wicker chairs and a matching end table. Its sponge-filled cushion stands up to the elements and protects against back pain. The tea table measures 15.75 inches wide, which is all the space you need for a couple of colorful drinks (don't worry about any spills—its tempered glass top makes for easy cleanup). One reviewer—who delighted in its low price for the high quality—shares a helpful hint for setup: "When assembling, don't tighten the screws at first. Put it all together loosely, then tighten them. If you tighten some of them too early, it is hard to get the rest to line up."
Get Devoko Patio Porch Furniture Set on Amazon for $159.99
2. An eight-piece entertaining set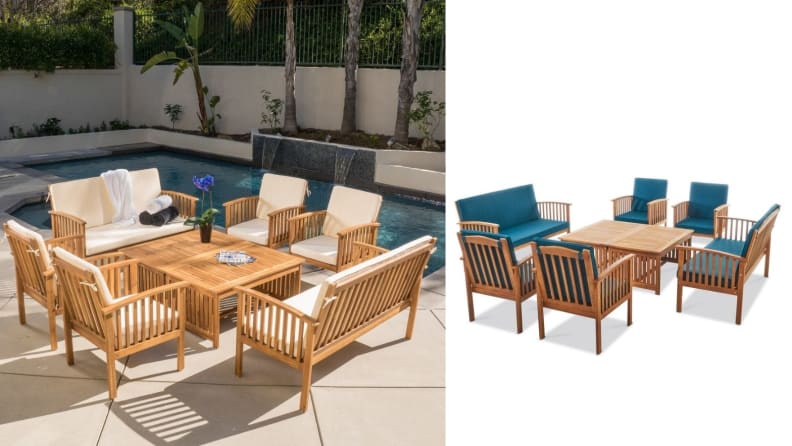 Whether you're feeding a crowd or simply craving lots and lots of human attention, this eight-piece acacia wood set with rave reviews on Overstock is a sensible option. It includes two love seats, four armchairs, and two tables, making it ideal for distanced hangouts. Water-resistant, foam-filled cushions are a fan favorite, while customers notice how well they hold up to spills and stains. Pick from one of five colors, from neutral cream to vibrant teal. An overwhelming majority of five-star reviews mention how straightforward it is to put together, and that it's a great deal given the number of pieces it includes.
Get Christopher Knight Home Carolina Acacia 8-piece Outdoor Sofa Set at Overstock starting at $1232
3. A three-piece bar-height set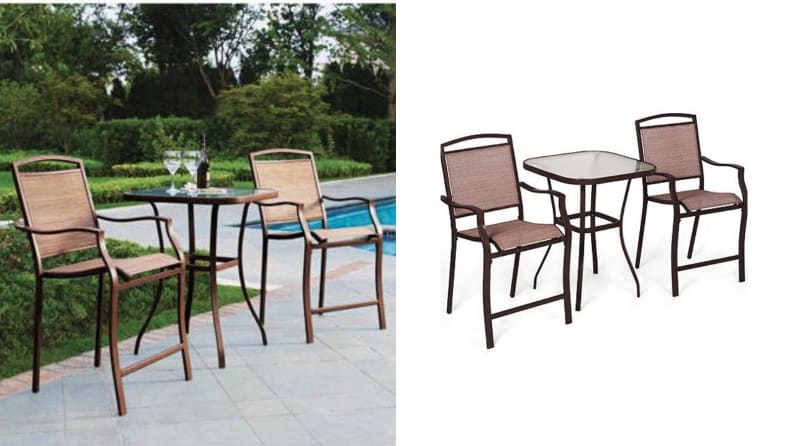 There's a strong chance you're using your patio furniture for happy hour. It's incredible how some height on these two sling chairs and a tempered glass-topped table create the ultimate outdoor bar setting. Of the top-rated patio set, one reviewer says, "We had a hard time finding a 3-piece bistro set with high chairs. We found this one on Walmart's website and the price was fantastic. We've used it the last few weekends with no issues or complaints. I would definitely recommend it to others." Many also note it's an incredibly durable set given the low price, and the legs are still low enough that you can comfortably dine.
Get the Mainstays Sand Dune 3-Piece Outdoor Bar Height Bistro Set at Walmart for $149.97
4. A stunning wicker coffee table
Whether you need a place to prop up your feet after a long day or set down an iced latte while you read, a coffee table makes for an ideal centerpiece to your outdoor space. Because it'll also act as the focal point of your gathering and get lots of traffic, having one with durable materials is essential. This coffee table is made of powder-coated steel to prevent rust and features a faux wood top, an extra bottom ledge for storage, and a brown wicker, water-resistant material. Reviewers consistently note that its wood top is far easier to clean and maintain than the glass-topped variety and that it holds up well to daily use.
Get the Hampton Bay Cambridge Brown Rectangular Wicker Outdoor Patio Coffee Table at The Home Depot for $199
5. Bright rechargeable lights
Unless you have a fire pit or a flashlight on your phone with an endless battery, those late-nights with good food and good company will require a more sustainable lighting option. These incredibly easy-to-use rechargeable lights illuminate your pathway, yard, or porch for eight hours on a single charge, and come in brown, black, and grey to suit all landscaping styles. Many customers note they emit a light yellow glow that's subtle enough to create a calming ambiance and increase visibility, but not so bright that they're blinding.
Get Sterno Home Set of 5 Vintage Style Solar Pathway Set at QVC for $45.42
6. A gorgeous woven hammock
Let's face it: when a swing-hammock-chair hybrid made of woven tapestry also drips of netted fringe and tassels, it doubles as an art piece cut straight from a storybook. This backyard accessory with a near-perfect rating on Overstock supports up to 330 pounds, is suitable for outdoor use, and easily hangs onto branches. Happy customers called out how sturdy and beautiful it is.