The same is the case when we choose a color for our shoes. As a schoolboy, of course, you can choose any color for your shoes, but when it comes to middle-aged men, you definitely pause and think before buying a new red pair of shoes that looks quite attractive, appealing, and promising in a glass rack. However, the red shoe fever has been all the rage lately, and watching every other celebrity wear red shoes with their outfits makes you want to try them out too. All the big shoe brands like Nike, Reebok, Gucci are designing red shoe lines for men, and it is very enticing to see the brilliantly colored shoes lined up, waiting to be picked up.
However, most people will shy away from wearing them just because of "RED" being considered unconventional for men. Let me assure you; this has been the perception in the past. Now every man can try out the red shoe outfit look as he deems comfortable. Do not worry about how it will look because we're here to help you avoid any fashion disaster. Although we do agree, it is not easy to choose what one should wear with red shoes.
How to Wear Red Shoes Stylishly for Men
Here are some very cool and trendy ideas about how you can wear red shoes in different ways. Enhance these ideas with your own personal style and taste, and you are ready to take on the world with your fiery red shoes.
The shoes greatly amplify or enhance your overall outlook.
To choose the right color for your outfit, it is better to go for light colors.
Monochrome colors for your outfit like beige, black, white, and gray will work well.
You can also go for contrast, such as navy or light blue. Don't try to wear a red shirt matching your red shoes because it will look too loud and funky.
I think a baggy jacket or cardigan in winter will look best, especially in a grey color. And yes, if you are from warmer regions, you must choose a darker shade of red because it will give a cool effect to your personality. But in more cold regions, a bright red will enhance your personality's mildness instead of inciting passion and restlessness.

A plain T-shirt and a denim jacket on top look perfect with denim jeans and red shoes. Try this style, and you'll see for yourself. If your red shoes have a touch of any color, a tip for you is to match that color with the undershirt.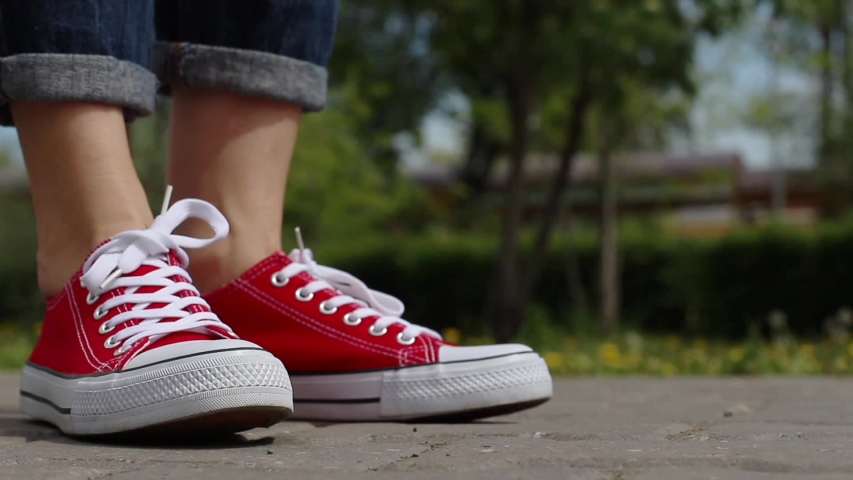 No need for too much sophistication – any outfit goes well with red shoes. Let's be casual and if you're just out for a walk around the block for some sight-seeing, wear whatever available clothes you have in your closet.

Look cool and feel good with this outfit – a black shirt paired up with chinos. Roll up the sleeves, and show off your ankles to look even hotter and sexier and then accessorize with the perfect sunglasses you got.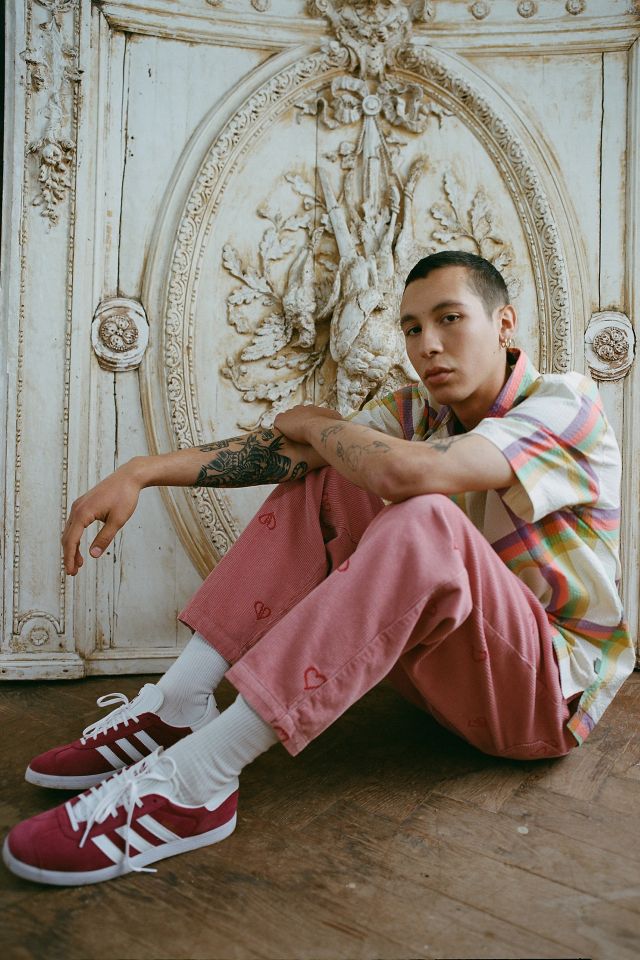 Nothing looks more satisfying than outfits complementing each other. To make an amazing color combination of your style, wear a red suit and make it less formal. Do not wear a dress shirt, just a plain tank top or T-shirt. They would match with your red shoes with a touch of white in them. No need for a tie as well. This is suitable for semi-formal and corporate occasions.

These Spiderman-themed shoes are perfect for MARVEL fans out there! Red and black really is a perfect match! Try to stick with the same color choice as the shoes to have a uniform look for your outfit.
If you are going to a place with steep trails and rocky roads like mountains, red sneakers are the shoes for you. They are designed for adventures like hiking and nature-tripping. Pair them up with clothes that will make you comfortable, allowing you to move freely and enjoy your trip.