ScreenshotMonitor allows us to look over completed work by remote staff, shows when my staff is working and keeps
a backup of work produced. Highly recommend!
Track without Internet
The app will continue time tracking and screenshot capture even with no connectivity to the web. The data will automatically be uploaded to the web next time there is an Internet connection. If an employee works without a computer – no problem either, he can add "offline time" without screenshots at any time.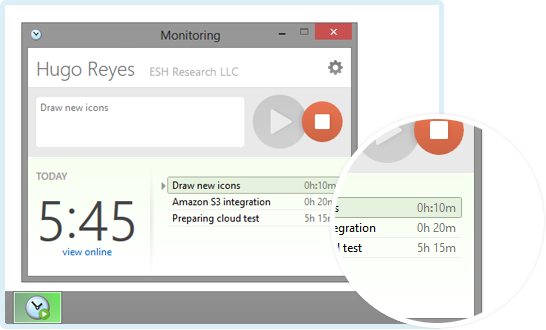 Use for office employees
ScreenshotMonitor is a great monitoring software for both office employees and oursourced workers. An office employee can start the tracking: auto-start-stop features will take care of the rest. The program will stop automatically when a user is inactive (lunch or the end of the day) and will resume once a user is back.
Integrate using Web API
It is simple to retrieve tracked time and task notes by employee in JSON format using ScreenshotMonitor API web service. Using this data you can integrate ScreenshotMonitor with your project management, accounting or other management processes.