Launched in 2016, Sky Q, a subscription-based TV and entertainment service, has evolved dramatically since by constantly adding new features to try and make the viewing experience as seamless and easy-to-use as possible.
Sky Q is the company's flagship offering, allowing you to not only access terrestrial TV stations, but a bevy of dedicated channels from Sky and others, including BT Sport. There's also built-in access to Netflix, Disney+, Prime Video, BBC iPlayer, Spotify, Fiit and YouTube (separate subs required where needed), plus you can rent and purchase the latest movies and TV shows as they announced.
So, should you opt for the all-singing, all-dancing Sky Q system, or does it cost too much to warrant its cover price?
How Much does Sky Q cost?
Sky Q is now available from Sky's online store. Prices vary drastically depending on what channels you take, whether you bundle in broadband (recommended as it's unlimited for Sky Q customers) and whether you bolt on extras like the additional Sky Q Mini boxes.
Sky Q boxes
4K (UHD) capable
2TB and 1TB storage options
Record 6 channels, while watching 7th
There are two main options when it comes to getting Sky Q in your home. Sky offers a 2TB or 1TB UHD Sky Q box with either the ability to add additional boxes in other rooms of your house (and app support with Sky Go Extra), or go for a single-room experience.
The box hardware and design is the same regardless of which hard drive size you choose. Unlike the original Sky Plus experience you can record up to six shows at once, while watching a seventh channel live. The 1TB storage space gives you 150 hours of HD recordings, which soon gets eaten up, especially if the kids series link their favourite TV show. The 2TB box delivers around 300 hours of HD recordings.
The boxes are both 4K ready and although you can't currently watch 4K movies or TV shows on live channels, there is a wealth of 4K content, including TV shows, films, and sport available to download. Some sport – including all F1, Premier League matches, some cricket and rugby – is available in 4K via a dedicated tuner, but encounters a short delay of about 30-seconds as a result (if you hear people cheering down the street when someone scores, that'll probably be why)
The chances of you wanting to watch seven things that all happen to be on at the same time are fairly slim, but that array of tuners is designed to let you watch content on the additional Sky Q Mini boxes in other rooms or preview channels while you're watching another.
Yep, those tuners also allow you to carry on watching television on the main screen while getting a preview of another channel in the pop-up electronic programme guide (EPG) at the same time, which is really handy if you're one of those channel hopping types.
There's support for up to four Sky Q Mini boxes, which connect to each other via Wi-Fi and then act as Wi-Fi extenders to beam your Wi-Fi signal around the house. It's not as good as Mesh networks from the likes of Google or Linksys and we've found you will have to have the boxes fairly near to each other – those in big houses will need to account for this – but it does let you not have to bother with cables all through your home.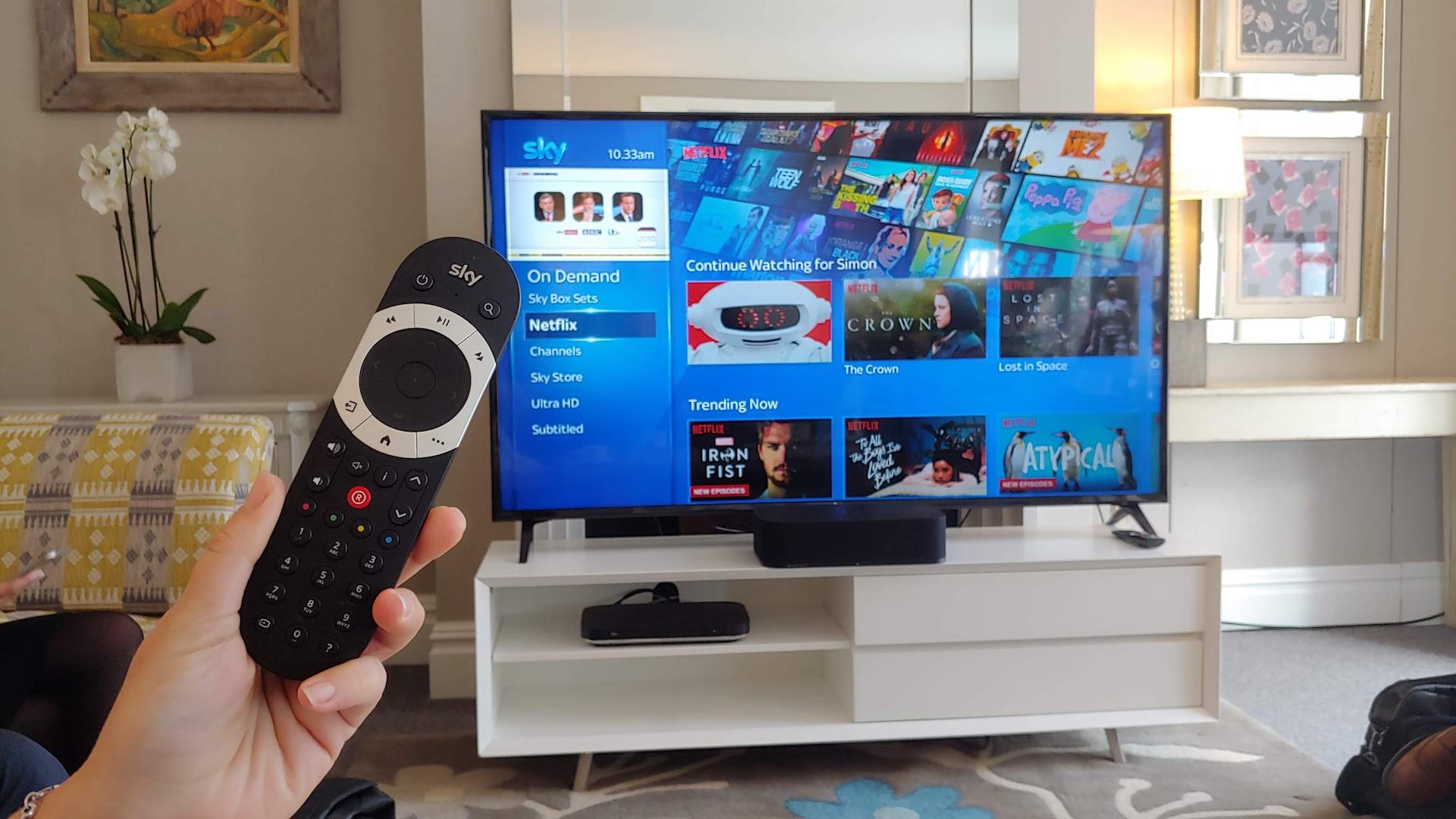 If all that sounds complicated, it shouldn't. Sky engineers install the system in your home, make sure the Mini boxes can talk to the main Sky Q box, and it starts working straight away.  
Sky Q Touch Remote and other controllers
Two remote control styles
Bluetooth, so don't have to point at box
Voice control functionality
The Sky Q system comes with two remote controls: a fancy one for the main Sky Q box; and a more traditional one for the Sky Q Mini boxes. Both are well designed and feature all the buttons you need.
The fancier one connects to the Sky box via Bluetooth so you no longer have to even point it in the right direction. It can be used to control your home cinema speakers, such as the Sonos Playbar, and originally came with a touch-sensitive pad for speedy navigation and a voice control button on the side.
The traditional remote generally used for the Sky Q Mini boxes loses the touch-sensitive controls, the voice command button, and the Bluetooth functionality.
Following an update, however, the fancier remote has been redesigned. It instead features the same spongy buttons as the Sky Q Mini remote, and moves the voice command button to the front rather than it being on the side.
Voice command works much like a walkie talkie. The mic is in the remote, so you don't have to shout, and the system quickly works out what you are asking for and displays the results your TV set. This makes a real difference, being especially handy if you're switching channels or searching for something specific.
And before you ask, no you can't use older Sky remotes with Sky Q.
Sky Q Mini & Sky Go app: How to watch TV in other rooms
Sky Q Mini: 1080p (Full HD) maximum, not 4K (UHD)
Lets you carry on watching in another room 
Access recordings from main box
Doubles as Wi-Fi hotspot
Even though the Sky Q Mini is essentially a media streamer, it cleverly acts almost exactly like the main Sky Q box that feeds it. You will barely know the difference, with little to no lag in video streaming between them.
Unlike the previous Sky Plus multi-room service, all recordings are recorded to the main hub, which means all the recordings are available at any point. That's a huge benefit over the original system, which saw you relegated to the bedroom, because that's where you recorded it. Such is the benefit of the network between these boxes.