Squarespace is a website builder designed to help creatives build their own websites and showcase their work, no matter their technical ability. Squarespace's latest version, 7.1, makes it easier than ever to enact sitewide design changes.
Squarespace is great for photographers, artists, and anyone who loves design and wants their website to look as good as the content they're showing off online. This is where Squarespace shines, and if you don't have high quality images – or if you have a very text-heavy site – you may struggle to make the most of Squarespace's visual designs.
Pros
Responsive site templates: Squarespace offers more than 100 site templates to choose from. Best of all, they're already built to be mobile responsive. A perk you might not always get with templates from other website builders.
Unlimited storage space: Squarespace offers unlimited storage on every plan. This is stellar news for creative sites that'll inevitably build an extensive media library over time. With Squarespace, you won't have to worry about hitting a storage or bandwidth limit.
Supportive live chat: Stuck? No need to worry. With its live chat feature, there is always an agent there ready to help you solve any site building problem you might run into.
Webinars and help guides: As with most website builders, Squarespace does have a bit of a learning curve as far as the backend is concerned. But to remedy this, it has built an extensive library of detailed help guides and webinars that'll get you to Squarespace expert level in no time.
Built-in email marketing: One of my favorite Squarespace features is their built-in email marketing tool. To put it simply, it's an add-on that empowers you to build eye-catching emails with beautiful templates without having to go through a third party. I don't know about you, but the less software I have to deal with to get the job done, the happier I am. And you get plenty of integrated analytics to boot.
Tools built specifically for ecommerce sites: Squarespace doesn't stutter when it comes to who they cater to. As soon as you find out about them, it's clear they care about visuals, but they also care about equipping you with the best ecommerce tools to create a dynamic online store. This helps narrow down your web builder choices if you're specifically looking to create a great ecommerce site.
Cons
Limited control over your domain name: If you buy your domain name through Squarespace, you won't be able to migrate it to another hosting provider if you ever decide to do so. This can be a determining factor in whether you want to call Squarespace your site's home and purchase your domain name in-house.
Limited SEO features: Lots of digital experts question the SEO capabilities of Squarespace. While there are plenty of success stories of sites ranking on Google, optimizing your posts and pages on Squarespace isn't as intuitive as with other website builders like WordPress or Drupal. If SEO is the primary way you'll drive traffic to your site, this is a point worth considering.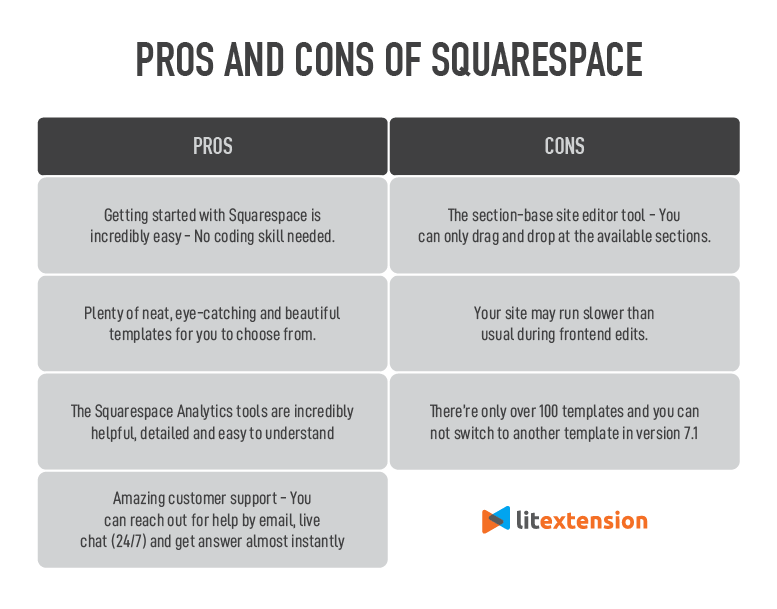 Conclusion-
Squarespace is a reliable web builder for creatives, artists, and ecommerce stores that keep visuals at the forefront of their business strategy. While its site plans tend to be a bit pricier, Squarespace more than makes up for it by allowing you to build and host your site all in one place and equipping you with a long list of site templates you can customize to your heart's content.